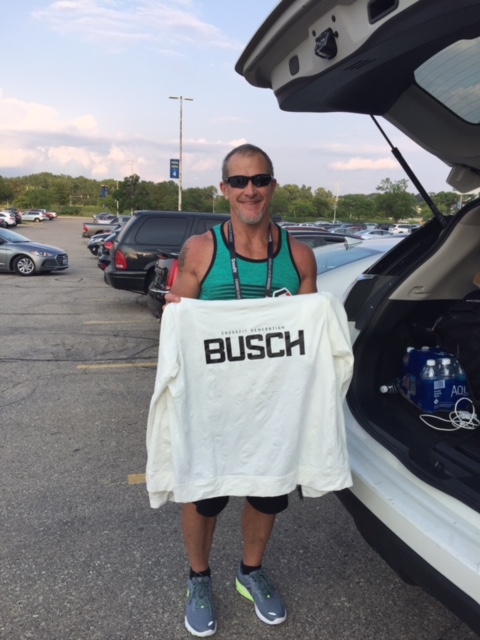 After qualifying for the Games I often get asked if I am excited and I always say "no". The reason for that is there are still many weeks of training. I don't like to look ahead because I don't want to lose my focus. The end is here and now it's time to get excited, although I might not be as excited as some other people (Barry for example 🙂 because things are different this year.
As I get ready to leave for the Games this year there are a lot of unknowns taking place. I am familiar with the Games but there is a new venue, Madison, Wisconsin and a different schedule, 4 days of WODS over the weekend instead of the 3 days during the week.
For the first time they are putting the masters in the water and I am not a swimmer. You would think having two kids that both swam, I would be able to swim but that is not the case and I give them even more credit now than I did back then because I now realize how hard it is. It will certainly be a survival event for me. I will also be doing an obstacle course which is another unknown entity.
It has been a long and challenging year because of the demands and expectations I put on myself to make a return trip to the Games. I have the athletes of Crossfit Generation and the coaching staff to thank. As usual, this starts at the top and I can't be thankful enough to Barry and Jocelyn for the support they've provided. I also have Vince to thank for all he does for me getting me through the Open and the Qualifier and then keeping me on point for the Games and, ofcourse, Mark who judges me and helps push me during the Open and Qualifier. Also I have to thank all of the coaches at CFG who allow me to come in and do my work and make sure I have what I need whether it's a running clock or equipment.
Crossfit Generation is such a big and supportive community and I am so honored to be able to represent it and everyone that belongs to it. I don't know a lot of the athletes anymore due to how I train but I am so thankful that they allow me the space I need. It's not always easy fitting in my work without interfering but everyone is so understanding and respectful of me, as I try to be of them and for that I am very appreciative.
I would also like to give a big shout out to my swimming coaches. Hopefully I won't embarrass you by my performance in the water. Barb Schmele for her time and effort and for getting me into a pool, Mel who was able to come home early to work with me and Jocelyn who did a run through of the run-swim-run WOD with me.
I also have to thank my family Mel, Zack and Michelle. An extra huge thank you goes to Michelle for all her support and understanding, as it's just as difficult on her if not more, and for allowing me to chase a dream. I know it isn't easy dealing with me and a Crossfit vacation.
Once again I just want to thank everyone at Crossfit Generation for their support and kind words.